プロフィール
Author:サイトウ ヒール


サイトウヒール 
twitter account : @lovelovegarden
プロフィール-準備中



マシーネンクリーガー作例



ガレージキット



マシーネン考古学



その他フィギア作品-準備中



メールはこちらへ

1/20 Robot Battle V "Stun Suit" volume study for rough
1/20 Robot Battle V "Stun Suit" volume study for rough.
And it was a little more compact image initially but,
In view of the comparison with the Mk44, I wonder if this much size you need?
... Which I think has or crossed that.
Normally rather than to human, and I wonder if Let aiming a little irregular feel?

Is everyone's image is what I feel?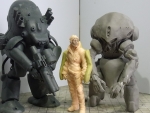 この記事に対するコメント

今年のWFで発売されたrebuild+さんのキットより頭部が大きく、全体的にゴツくてシルエットも格好いいですね
完成が楽しみです
【2015/02/25 20:23】 URL | N.Y #-[
編集
]
---